The
Person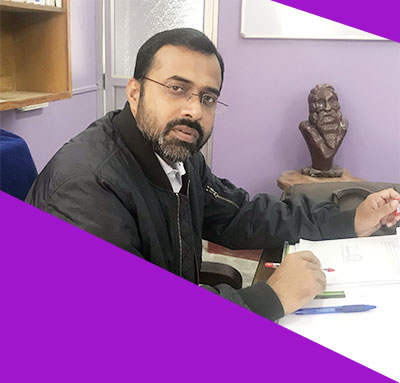 Dr. Amitabh Roy
Principal
ALIPURDUAR MAHILA MAHAVIDYALAYA
Dr. Roy joined Sitalkuchi College, Cooch Behar as Assistant Professor in the Department of English in the year 2002. He worked there for 8 years before shifting base to Alipurduar Mahila Mahavidyalaya, Alipurduar in 2010.

He was designated Teacher – in – Charge of Alipurduar Mahila Mahavidyalaya on 26th April, 2010 and re – designated Vice Principal of the College on 16th April, 2018.

He was appointed Principal of Alipurduar Mahila Mahavidyalaya on 11th February, 2021

He has attended several national and international seminars and conferences and has quite a few number of publications to his credit. He is also a member of Global Research and Development Services (GRDS) and is well – known in his circle for his immense reading of Baudelaire, Post Colonial Literature and Indian English Fiction including Arundhati Roy and Shashi Deshpande to name a few. His M. Phil dissertation is an intensive study of Arundhati Roy's The God of Small Things. His Thesis for Doctoral Degree is a reflection of modernity in Shashi Deshpande's novels. Dr. Roy also has to his credit a self – authored book on The God of Small Things from the perspective of socially committed writing.

His second book Shashi Deshpande's Journey from Tradition to Modernity was published in the year 2018. His love for dark poetry and keen appreciation of Baudelaire's poems is evident from his book entitled (Re)Constructing Baudelaire: From 'Victorian Mephistopheles' to 'Modernist Saint' published in the year 2019.

His writings are not limited only to literary criticism. His passion for poetry can also be observed through his latest collection of poems, Voyage to Santorini (2020). The essence of his work can be assessed by the fact that the book has been introduced in the Post Graduate syllabus of Department of English of Cooch Behar Panchanan Barma University. His writing ability is not restricted only in English language. He expressed his poetic thoughts and views in Bengali through his collection, Mrityur Naam Koro Na, (2020).

Besides being an academician, he carved a niche for himself not only as a journalist but also as a Compere for All India Radio. During his short stint as a journalist his articles represented his knack for rational thinking and scientific outlook.








Projects
The Projects

Year 2020 : ICSSR - ERC Funded Minor Research Project on 'Introduction of Digital Classrooms: A Survey of Colleges in the Districts of Alipurduar and Cooch Behar.
Seminars
& Conferences
Conferences Abroad

Presented Paper at ISBER International Conference on Academic Research in Social Sciences, Humanities, Business Ethics, Management, Banking & Finance (ASSMF) held at Male, 25th - 26th October, 2019.

Presented Keynote Talk at Annual International Conference on Business, Social Science, Engineering & Technology held at Bali, 24th to 25th October, 2018.

Participated as Paper Presenter at the 25th International Conference on Teaching, Education and Learning (ICTEL) held at Dubai, 10th to 11th October, 2017.

Acted as Invited Speaker and Technical Session Chair at International Conference on Education and Social Sciences held at Kuala Lumpur, 8th November, 2015.
Conferences in India

Chaired Session at ICSSR - ERC sponsored National Webinar on Society, Disaster and Resilience: Lessons from Literature held at Surya Sen Mahavidyalaya, 8th February, 2021

Chaired Session at International Conference on Environment, Peace & Morality: East & West held at Surya Sen Mahavidyalaya, Jan 11-13,2019

Presented 'Arundhati Roy and Big Dam Politics' at National Seminar on Theory and Practice of Human Rights: The Indian Context held at Sitalkuchi College, March 20-21, 2015.

Presented 'The Encounter between Philosophy and Literature: Rereading Waiting for Godot in 21st Century' at International Seminar on Society, Philosophy and Literature held at Nani Bhattacharya Smarak Mahavidyalaya, Sep 10-11, 2014.

Presented 'Digital Culture and Dickens: 21st Century (Re) Construction of The Mystery of Edwin Drood' at National Seminar on Reviewing Dickens Bicentenary: Reading 21st Century Interpretations of Charles Dickens held at University BT & Evening College, March 22, 2013.

Presented 'Quest Poems: A Comparative Study of Rabindranath Tagore and W.B. Yeats' at National Seminar on 150 Years of Rabindranath: A Reinterpretation held at Sitalkuchi College, March 2-3, 2012.

Presented 'OLPC and the Future of Elementary Education: Dreaming Digital Access as a Fundamental Right' at National Conference on Realizing the Right to Development in India: the Challenges of Universal Elementary Education held at Mathabhanga College, March 25-26, 2010.

Presented 'Digital Being: Locating the subject in One Night @ the Call Centre' at National Seminar on Popular Culture, Media and Literature held at Sitalkuchi College, March 20-22, 2010

Presented 'Eco – consciousness in Arundhati Roy's The God of Small Things' at State Level Seminar on Contemporary Indian Novels in English Overviews, Views and Reviews, held at P.D. Women's College, Feb 22-23, 2008.

Presented 'Indian Character of Shashi Deshpande's Novels' at State Level Seminar on Indianness in Indian Writing in English held at University BT & Evening College, Dec 19-20, 2005.